Azerbaijan: A pivotal actor in an increasingly destabilized neighborhood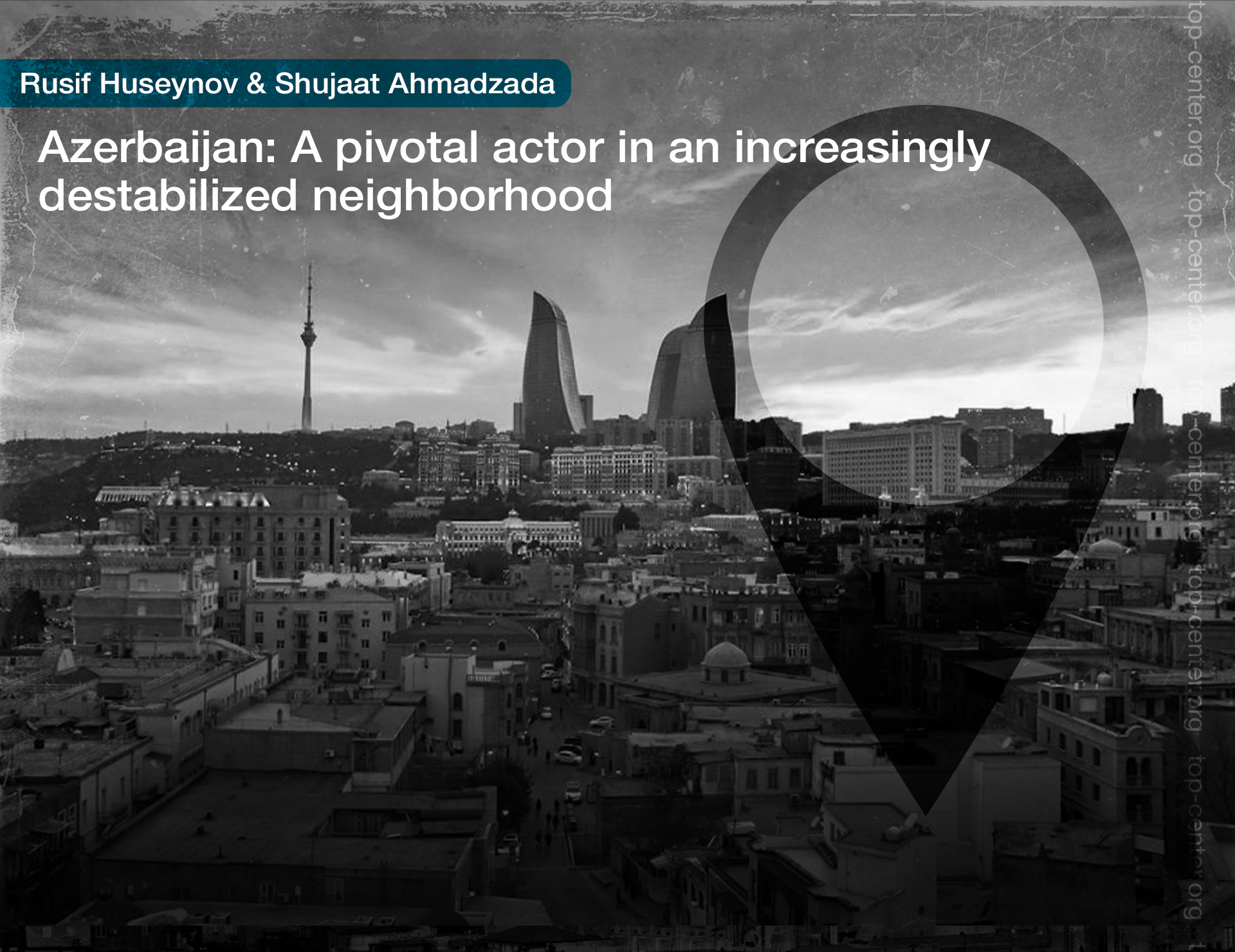 Post-Soviet Backyard
Around two decades ago, one of the first epithets used to describe Azerbaijan in the Western mainstream media was "Russia's backyard." Despite the fact that many people objected to such labels being used to designate post-Soviet countries, current events oblige us to use them again. Not because the independence of the former Soviet countries, which stretches from the Baltic Sea to the Tian Shan Mountains, is nothing but a formality, and Russia is the only country with a say. It is just because Russia publicly declares that those countries are in its "backyard."
The Russian Foreign Ministry took the unprecedented step of posting a draft NATO-Russia agreement on December 17, 2021, outlining Moscow's requested security guarantees. Article 7 of the draft agreement says: "The Parties that are member States of the North Atlantic Treaty Organization shall not conduct any military activity on the territory of Ukraine as well as other States in the Eastern Europe, in the South Caucasus and in Central Asia." The names of three regions were not chosen at random; this draft is yet another indication of Putin's vision about those regions as his "backyard" that no one can enter.
The situation in what Putin considers his "backyard" is not as black-and-white as it appears, and various states react differently to the attempts of the former metropole to dictate the rules of the game. For a number of reasons, several states such as Armenia, Belarus, and Tajikistan, appear to be interested in the Kremlin's dominance over the post-Soviet sphere. Others were severely reprimanded for defying the Kremlin.
Of them, three countries deserve special attention: Azerbaijan, Ukraine, and Uzbekistan. According to Zbigniew Brzeziński, a former national security advisor to U.S. President, these three countries are the litmus test for what Russia may or may not do in the wider Eurasian region. It should not, therefore, be surprising that Washington was amongst those who welcomed GUUAM, a regional platform established in the 1990s by these three geostrategic swivels along with Georgia and Moldova, to bandwagon with Western governments at the system level and build a regional balance against Russia.
It appears that Kremlin decision-makers shared Brzezinski's view of those countries too. The Kremlin reacted quickly to disrupt any balancing act in Russia's "backyard". Moldova's future was tied to thousands of Russian soldiers stationed in the breakaway Transnistria under the guise of "peacekeeping" operations. In 2008, Russian tanks neared Tbilisi in an attempt to punish yet another "rebellious neighbor". Ukraine was punished like no other country by Russia: in 2014, Russian "green men" were sent to occupy eastern Ukraine and illegally annex the strategically crucial Crimean Peninsula. Moscow's unsatisfied punishment machine returned eight years later to conduct an unprecedented, unprovoked, and unjustified murderous all-out invasion of Ukraine to crush all prospects for an independent, sovereign, and democratic Ukraine.
Of three geostrategic pivots, the situation in Uzbekistan is not as catastrophic as it is in Ukraine, but it is still worrisome. Uzbekistan was threatened by the Kremlin's mouthpiece based in Minsk quite recently on January 10, when Belarus President Alexander Lukashenko, a close ally of Putin, warned that if lessons from the events in Kazakhstan are not learnt, something similar could happen in Uzbekistan. In an interview with Vladimir Solovyov - one of the Kremlin's most prominent propagandists who has been on the Western sanctions list for some time - Lukashenko said that they [Russia and Belarus] are working on forming a new "association of independent states," which will be better than the Soviet Union. He went so far as to threaten Uzbekistan that it has nowhere else to go from Putin's new imperial project.
However, there was something more in that interview that piqued interest. Lukashenko remarked that while Ukraine, Moldova, and all of Central Asia will be part of the "new USSR," he said that "unfortunately, Azerbaijan has no place there". But how come Azerbaijan saved itself from Putin's new union? To get an answer, one should carefully examine the diplomatic strategy that tiny Azerbaijan pursued vis-a-vis global Russia.
Azerbaijani Diplomacy: Difficult road to strategic autonomy
Azerbaijan's independence began with a violent conflict with Armenia over the Karabakh region, and the country quickly became a perfect example of the notion of the failed state. Occupation, tens of thousands of refugees, civil war, coups d'état, and economic stagnation characterized Azerbaijan of the 1990s. Apart from the conflict with Armenia, this period also encompasses the preparation of pernicious geopolitical projects for Azerbaijan in the Kremlin's decision-making halls.
When discussing the shocking advancement of the Armenian armed forces on the Karabakh front with his Azerbaijani colleagues, Russian envoy Vladimir Kazimirov said, "You [Azerbaijan] did not accept what we [Russia] said, and you got worse." These words, said with a mocking smile by Kazimirov, show how the Kremlin was seeking to take advantage of Azerbaijan's dark days. What he referred to as "Russian proposals" were simply Azerbaijan's return to the Kremlin's axis — that is, the deployment of permanent Russian military bases to Azerbaijan, as well as Azerbaijan's participation in Russia's political initiatives - in exchange for a truce in Karabakh.
An Azerbaijani diplomat sought U.S. assistance for softening the terms of a ceasefire in one of the diplomatic correspondences, but received the response "sorry, we can't help." Despite massive territorial losses on the front, the Azerbaijani army, which was mostly made up of volunteers, successfully repelled Armenian attacks on Ganja and the Kura River in early 1994, preventing the de facto division of Azerbaijan. In May 1994, a simple ceasefire deal was reached with no political compromises thanks to the steadfast resistance of Azerbaijanis. The ceasefire accord shattered Kazimirov's strategy to use the Armenian occupation of Karabakh to force Azerbaijan into the Kremlin's orbit.
Despite Kazimirov's failure to make a deal out of Azerbaijan's defeat, the goal of the Kremlin masterminds remained the same: Azerbaijan should not be permitted to leave Russia's orbit. However, in the first decade after the truce, Azerbaijan's successful use of its soft balancing capabilities afforded it the ability to neutralize potential threats emanating from Russia without directly questioning the Kremlin's vital interests in the wider neighborhood. The first was to entice multinational energy corporations to Azerbaijan, which had received prior little international assistance and was bereft of foreign investment. The Contract of Century of 1994, and Baku-Tbilisi-Ceyhan and Baku-Tbilisi-Erzurum pipelines enabled the transfer of the Caspian's rich oil and gas resources to the West, rather than to the North - where it had flowed for centuries. The Azerbaijani economy has been integrated into the European economic space because of these energy projects. As a result, Azerbaijan has refused to join Russia's CIS free trade zone, and the European Union has remained Azerbaijan's top commercial partner ever since. Thus, Azerbaijan was able to bypass the Kremlin's economic orbit.
The Azerbaijani armed forces were responsible for the second triumph. Azerbaijan began rebuilding its army almost immediately after the truce, with NATO member Turkey providing significant aid. The Azerbaijani Armed Forces were restructured, the military education system was modernized to NATO standards, and the army began to employ non-Soviet weapons. Azerbaijan joined NATO's Partnership for Peace program and left the Collective Security Treaty in 1999 - which the Kremlin considers a rival to NATO. Azerbaijan even incorporated its Euro-Atlantic ambitions into its military doctrine. Thus, Azerbaijan was able to break free from the Kremlin's military orbit.
The third achievement was in the field of diplomacy. "Strategy is keeping your rivals closer to you than they are to each other," said Otto von Bismarck, and it appears that this philosophy has guided Azerbaijani diplomacy ever since. Azerbaijani diplomacy has avoided disputes with its neighbors, maintained contact with major international power centers, and turned neither side against Azerbaijan. When it comes to backing Azerbaijan on a variety of topics, including the Karabakh conflict, three regional rivals - Israel, Turkey, and Saudi Arabia - are in the same boat. This is just one more example of Azerbaijan's pragmatic and rational diplomacy. Azerbaijani diplomacy eschewed any conjectural instrumentalization of Azerbaijan's problems by major countries, instead focusing on building long-term, sustainable relationships with different actors. As a result, Azerbaijan avoided having to synchronize its foreign policy with the Kremlin, thus, was able to exit the Kremlin's diplomatic orbit.
Not only for Azerbaijan
When one studies Azerbaijan's diplomatic maneuverings in its relations with Russia, it's straightforward to see why Lukashenko did not consider Azerbaijan to be part of the "new USSR." Azerbaijan has managed to stay out of Russia's economic, military, and diplomatic orbit thanks to efforts made during the country's independence years. However, one element of Azerbaijan's diplomatic course sets it apart from its Eurasian counterparts.
What distinguishes Azerbaijan from other countries is that it has always aided its Eurasian partners which have suffered from Russia's imperial ambitions. Russia launched a military attack to take control of Georgia's breakaway Abkhazia and South Ossetia regions in August 2008, when the world's attention was focused on the Beijing Olympics. Russia's invasion has left Azerbaijan in a difficult situation by jeopardizing the future of energy and transportation projects that it had implemented to safeguard its economic and political independence. Despite this, Azerbaijan has expressed its support for Georgia's territorial integrity, but this support was more than just rhetoric.
Azerbaijan did not close its borders with Georgia during its most difficult times, did not adjust the price of oil and gas sold to Georgia, and provided Georgia with uninterrupted electricity, which enabled Georgia to defend itself from an all-out Russian invasion. Azerbaijan also provided millions of dollars in cash to Georgia overnight during the war, preventing the country from defaulting. This is how Giorgi Kadagadze, former chairman of the National Bank of Georgia, recalls: "As a natural reaction to the August War, citizens began to withdraw their deposits from banks en masse. As a result, financial institutions were looking to the National Bank for assistance as they faced a serious currency shortage. We have placed an order for funds to meet the needs of banks and to supply them with cash. It was estimated to be around $300 million. This action was carried out with the assistance of brotherly Azerbaijan. Two collectors carrying $300 million departed Baku that night and arrived in Tbilisi discreetly. As a result, around 6 p.m., all the money was disbursed to the banks, and there were no difficulties."
While Russian fighter jets taking off from the Gyumri military base in Armenia bombed Georgian cities, Azerbaijan hosted the leaders of five European countries that came to Georgia's aid during its hardest times. Presidents Lech Kaczynski of Poland, Valdas Adamkus of Lithuania, Toomas Hendrik Ilves of Estonia, Viktor Yushchenko of Ukraine, and Prime Minister Ivars Godmanis of Latvia were unable to land in Georgia due to Russian-controlled airspace; however, they arrived safely in Azerbaijan, and crossed the Azerbaijani-Georgian border in cars provided by the Azerbaijani government.
The Kremlin has taken notice of Azerbaijan's covert backing for Georgia. Proximity to Azerbaijan's energy artery, the BTC pipeline, was hit by Russian artillery fire to "warn" Azerbaijan to remain out of the conflict. Although Russia's involvement remains speculative, several post-war events have alarmed Azerbaijan: the Abu Bakr Mosque in Baku was attacked a few days after the war ended, unknown groups in northern Azerbaijan distributed leaflets calling for the secession of Zagatala and Balakan from Azerbaijan, and rumors spread among the population that Russian passports would be issued to people living in Azerbaijani villages bordering Russia.
These threats, however, were ineffective, and despite Russian coercion, Azerbaijan refused to join Putin's geopolitical projects such as the Collective Security Treaty Organization and the Eurasian Economic Union in the following years. These threats did not deter Azerbaijan from assisting its Eurasian neighbors as well. Moldova was the second country to get help from Azerbaijan. For years, the Kremlin has pressured Chișinău by exploiting the existence of a separatist rule on the Dniester River's east bank. Despite the fact that Transnistria declares itself an "independent" republic from Moldova, it sees itself as an integral part of Moldova when it comes to gas consumption: it buys gas from Russia's Gazprom but does not pay for it, instead passing it to Moldovagaz, the country's official gas distributor. As a result, Moldova owes Russia more than $7 billion in gas, which was used by Transnistria.
In the fall of 2021, when Moldova proclaimed a state of emergency, this gas game came to a head. On the eve of winter, Moldova found itself in a difficult situation due to the expiration of its contract with Gazprom and the fact that it could not be renewed for weeks. This time, too, Azerbaijan stepped in to help Moldova, providing a short-term energy supply. In a meeting with Azerbaijani President Aliyev, Moldovan President Sandu said, "I want to express my gratitude for your support during the period of a gas crisis." President Sandu stated that Moldova is keen to acquire additional gas from Azerbaijan and to enhance bilateral energy cooperation during her call with President Aliyev in March 2022.
Azerbaijan reaffirmed its position by assisting Ukraine in its fight against Russia. Although Azerbaijan and Ukraine have had a strategic partnership for decades, Azerbaijani President Aliyev visited Kyiv on January 14 and signed a number of key treaties amid escalation on the Ukrainian-Russian border and a large-scale cyberattack on Ukraine's government websites. "We have signed the Joint Declaration of the Presidents of Ukraine and Azerbaijan. It enshrines readiness to provide mutual support for the sovereignty and territorial integrity of our states within internationally recognized borders, joint counteraction to hybrid threats, the desire to ensure peace and stability in the Black Sea-Caspian region and beyond," said Volodymyr Zelenskyy during the meeting with the media following the Ukrainian-Azerbaijani talks.
When Russia waged war on Ukraine on February 24, Kyiv's friends came to its aid, including Azerbaijan. Azerbaijan has delivered Ukraine medical supplies and humanitarian help worth millions of dollars, while the Azerbaijani national oil giant SOCAR has agreed to provide free petroleum to Ukrainian ambulances and emergency vehicles. Petroleum's crucial significance in winning wars is a simple truth that hasn't altered in years. The occupying Nazi army remained on the roads due to a scarcity of petroleum during World War II, and paradoxically, the occupying Russian troops lingered on the roads due to a lack of fuel as well. Even though Azerbaijan can not provide offensive weapons to Ukraine, it does back the Ukrainian resistance in its struggle against Russian occupation by delivering essential goods.
In a speech on March 17, Ilham Aliyev, the president of Russia's neighbor, and a country that has about 2,000 "Russian green men" under the guise of "peacekeepers", criticized the bombing of cities and the shelling of civilians in wars. The timing of this message is crucial, as it comes at a time when the entire world has been stunned by the indiscriminate shelling of Kyiv, Kharkiv, and Mariupol by Russian forces.
Azerbaijan is not regarded as a major regional player. As a middle power, neither. Nonetheless, Azerbaijani diplomacy has achieved unrivaled, astonishing, and dazzling achievements in the Eurasian region during the past 30 years. For the first time in the Eurasian area, a state that lost its lands as a result of a separatist conflict has returned its lands thanks to the successful diplomatic policy. Second, without the direct help of the collective West, Azerbaijan waged diplomatic resistance against the former imperial metropole and was able to rid itself of numerous neo-imperial initiatives of the Kremlin. Third, despite the lack of collective security guarantees, Azerbaijan's diplomatic actions did not end with self-struggle, and it extended helping hands over and over to the Kremlin's rivals in the Eurasian region, preventing them from being swallowed up by the neo-imperial behemoth.