Contemporary Case of Urban Warfare: Battle of Shusha (public lecture)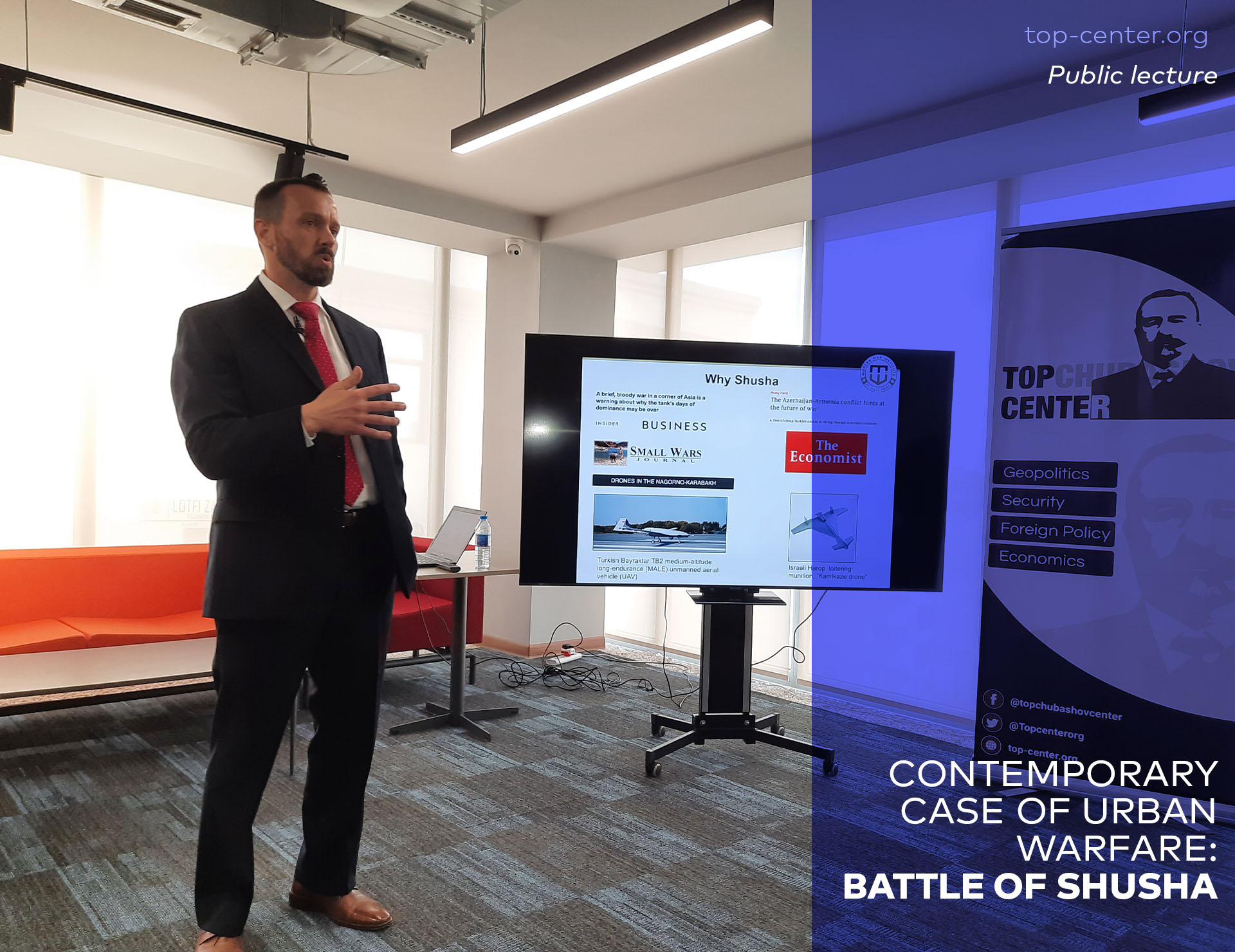 On 12 November, Topchubashov Center welcomed John Spencer, a military expert from the United States in a guest lecture. Having served in the army for 25 years, Mr. Spenser is now chairing Urban Warfare Studies at the Modern War Institute. After conducting field research in Shusha with Rusif Huseynov, Co-Founder and Director of Topchubashov Center, Mr. Spencer delivered a highly informative lecture on the battle of Shusha as a groundbreaking example of modern urban warfare.
According to Mr, Spencer, urban warfare is still a key component of modern combat. Sitting on the top of a hill with a wide view and with mountainous terrain, Shusha represents an ideal defensive zone for the control of the Karabakh region. In October 2020, the Azerbaijani army was able to cross the line of contact, and by the end of October, clashes were reported to be taking place 5 kilometers from Shusha. On November 6, Azerbaijani troops were able to penetrate the city, and once inside they started heavy street fighting and established further blocking positions and ambush sites to prevent the remaining Armenian troops from being reinforced and supplied. At the same time, other Azerbaijani soldiers successfully captured Dashalti, which provided direct access to the main road into Shusha. On November 7 foggy weather struck the area. Nevertheless, the Azerbaijani forces held their ground, repulsed Armenian counterattacks and returned on the offensive. The battle ended up in building-to-building close combats. On November 9, Azerbaijani troops ultimately took control over Shusha, and President Ilham Aliyev declared total victory.
Mr. Spencer highlighted how the battle of Shusha provided major urban warfare lessons for modern war. For instance, cities have proved to remain strategic objectives in war, because as Shusha fell, Armenia was forced to surrender out of fear that Azerbaijani troops would be able to get access to Khankendi. Moreover, the battle demonstrated that it is necessary to have a full suite of modern, joint force capabilities to hold decisive urban terrain and that not solely infantry fightings nor air superiority are per se decisive for the victory. Finally, Shusha reminded that militaries must prepare for both urban offense and defense operations.