Azerbaijan's support for Ukraine since the Russian invasion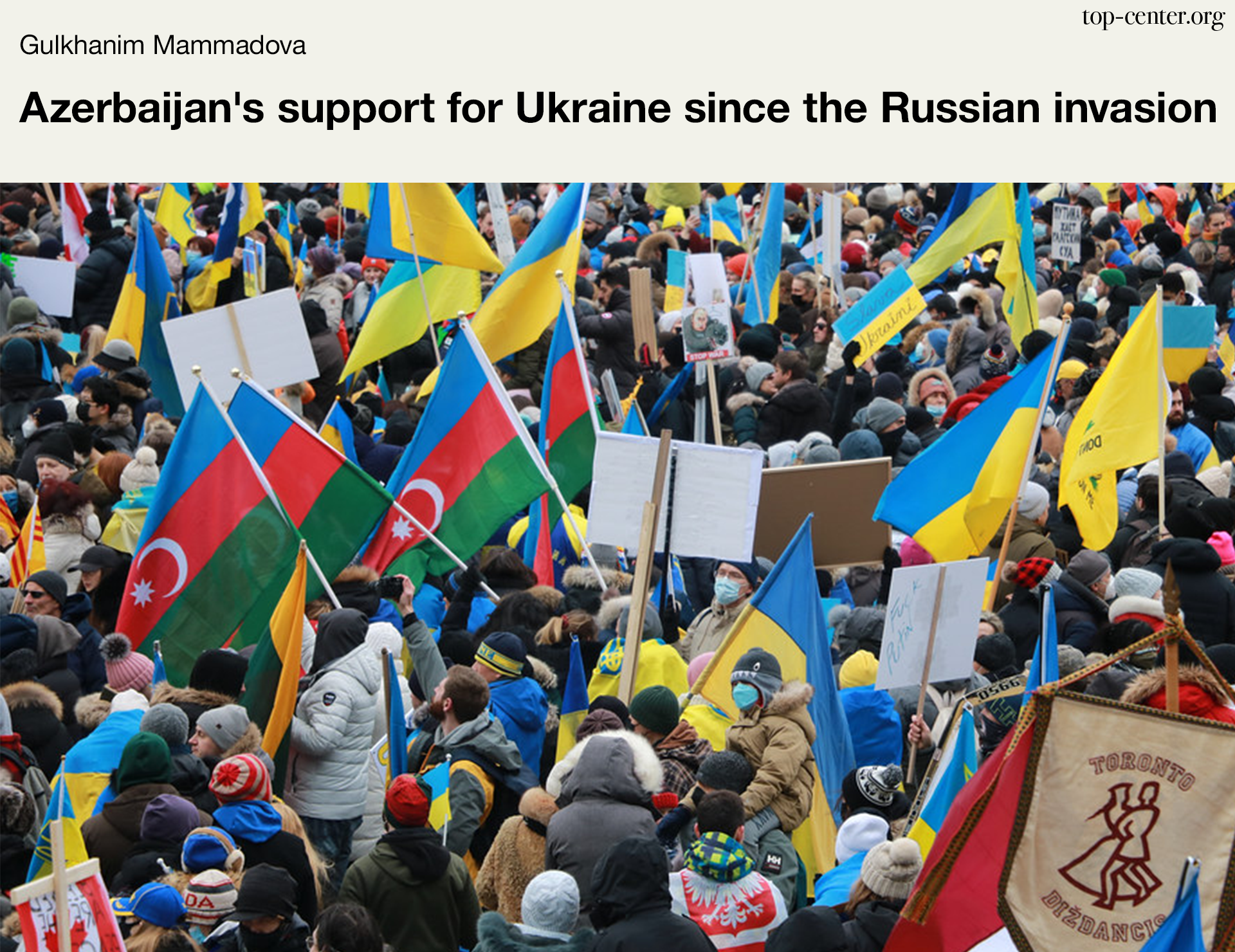 Azerbaijan's foreign policy has consistently emphasized the importance of respecting national sovereignty and territorial integrity, aligning closely with Ukraine on these fundamental principles. This alignment has naturally forged a strong strategic partnership between the two nations. In a significant move, Ukraine's 2020 national security strategy officially recognized Azerbaijan as a strategic ally. Moreover, underscoring this, President Ilham Aliyev paid a visit to Kyiv in January 2022, just a month before the full-scale invasion of Ukraine, during which he reaffirmed Baku's support for Ukraine's territorial integrity. The diplomatic talks held during this visit between President Zelenskyy and President Aliyev resulted in the signing of the Joint Declaration, which not only seeks to fortify their strategic partnership but also to firmly anchor shared values and common objectives, solidifying Azerbaijan's role as a crucial supporter of Ukraine.
In the face of Russia's invasion of Ukraine in February 2022 and the complex geopolitical dynamics at play, Azerbaijan has emerged as a crucial supporter of Ukraine. Baku has demonstrated its commitment to Ukraine across multiple fronts, with its assistance being categorised into four critical areas: humanitarian aid and infrastructure support, energy support, reconstruction efforts, and rehabilitation.
According to a high-level diplomatic source who spoke on the condition of anonymity, Azerbaijan became one of the first and few countries that reacted to Ukraine`s first call to the international community for help and provided aid within 24 hours of the invasion. Since the onset of Russia's invasion of Ukraine in February 2022, Azerbaijan has consistently demonstrated its commitment to supporting its friends to address the country's crisis-driven humanitarian needs. This commitment is exemplified through a series of substantial humanitarian aid deliveries, totaling over $20 million in value. The humanitarian assistance from Azerbaijan has encompassed a wide range of essential resources, from medical supplies and equipment to life-saving devices and even crucial items for addressing natural disasters. The first shipment of medical consumables in February 2022 served as a testament to Azerbaijan's immediate response to the healthcare crisis unfolding in Ukraine. This action set the tone for ongoing aid deliveries, which included medications, food, and critical infrastructure support, offering a lifeline to Ukrainians suffering from the consequences of war.
Furthermore, Azerbaijan's commitment to humanitarian aid extended beyond the conflict's immediate aftermath, as demonstrated by the recent delivery of water-related resources to address the water dam disaster in Kakhovka. In addition to conventional aid, Azerbaijan provided 45 transformers and 50 generators in December 2022, followed by an additional 45 generators in January 2023, reflecting its proactive response to Ukraine's energy needs in the face of widespread disruption. However, it's important to note that Azerbaijan faces challenges in framing its assistance to Ukraine. For instance, Maria Zakharova's remarks openly questioning the humanitarian character of the energy aid to Ukraine highlighted what kind of challenges Azerbaijan might experience.
Despite its shortage of skilled personnel and necessary equipment – Azerbaijan has to deal with the Armenian-planted landmines in the liberated Karabakh, a colossal task that can require, according to different estimates, 30 years and USD 10 billion – Baku has also sent mine clearance assistance to Ukraine. Recently, Azerbaijani Ambassador to Ukraine Seymur Mardaliyev announced that Azerbaijan will provide Ukraine with a mechanised mine clearance vehicle and conduct training for sappers. This signifies Azerbaijan's dedication to addressing the pressing issue of humanitarian demining in Ukraine and further expands its support for the country's recovery efforts, adding to the extensive aid packages and assistance it has already provided. Additionally, Azerbaijani Foreign Minister Ceyhun Bayramov emphasized Azerbaijan's intention to offer mine clearance equipment at an international conference in London, underscoring the country's commitment to aiding Ukraine in overcoming the challenges posed by landmines and explosive remnants of war.
Azerbaijan, through its oil giant SOCAR, has also played a pivotal role in extending energy support to Ukraine during a period of intense turmoil. Since February 2022, SOCAR Energy Ukraine has been consistently providing free fuel to ambulances and special vehicles, ensuring their uninterrupted operation amid the ongoing crisis. This act has been vital in facilitating the transportation of medical personnel and supplies to assist the injured and civilians affected by the conflict. One should understand how critical this help is for Ukrainian resistance, especially in the first weeks of war. Moreover, SOCAR's efforts have gone beyond fuel provision, as they have actively engaged in fundraising through the SOCAR Blago charity fund, contributing over $50,000 for the purchase of essential medicine for the Ukrainian population
Azerbaijan is actively participating in the reconstruction efforts in the war-torn city of Irpin, a strategically important town near Kyiv. For instance, in 2022, SOCAR Energy Ukraine contributed significantly to the revitalization of Irpin, focusing on the restoration of a secondary school. The restoration work included repairing the roof, windows, stained-glass windows, and the building's facade, all of which had suffered damage during the conflict. Additionally, classrooms and the gymnasium, which had sustained significant damage from explosions, were refurbished to make them usable once again. Moreover, bathrooms were installed in the bomb shelter, enhancing the safety of the school.
In collaboration with various ministries of Azerbaijan, an essential initiative has been put in place to support the psychological rehabilitation of more than 100 children aged 7 to 17 years old from Ukraine who have been left without parental care due to the challenging situation in their home country. These children have been endowed with an opportunity to undergo rehabilitation in Azerbaijan. This program recognizes the immense trauma and psychological distress that conflict and displacement can inflict on young individuals and aims to offer them a safe and supportive environment for healing and recovery.
Aside from the official assistance efforts, there have been reports of unofficial military support from Azerbaijan to Ukraine. These reports have surfaced through various channels and have drawn attention to the complexities and sensitivities surrounding international relations in the context of the Ukraine-Russia conflict. The first claims of Azerbaijan sending military aid to Ukraine emerged on February 17, 2023, from Russian MP Konstantin Zatulin. Zatulin alleged that Azerbaijan was supplying weapons to Ukraine, including mines produced in 2022. Notably, the Azerbaijani government did not officially respond to these allegations, which were mostly reported in Armenian media and Telegram channels. Subsequently, news emerged regarding the alleged transfer of QFAB-250 LG bombs from Azerbaijan to Ukraine, and leaked documents were presented as evidence by several Western and Russian media outlets. Once again, Azerbaijani authorities refrained from commenting on the matter. During the summer of 2022, reports circulated about Azerbaijani-manufactured mine-throwers being deployed to Ukraine. While it was confirmed that such weaponry was indeed used in Ukraine, investigations revealed that Ukraine had expressed interest in purchasing Azerbaijani weapons prior to the outbreak of hostilities. Additionally, Azerbaijan's track record of supplying similar weapons to over 30 countries raised the possibility that one of these countries may have facilitated the transfer to Ukraine. In the context of the continuing crisis in Ukraine, Azerbaijan has been under scrutiny and rumored to be involved in the conflict as a result of its position supporting the territorial integrity and sovereignty of Ukraine. However, official statements from Baku have remained elusive on these matters.
Azerbaijan's solidarity with Ukraine was not confined to tangible aid; it extended to the diplomatic front as well. Araz Azimov, the Azerbaijani Deputy Foreign Minister, unequivocally asserted that the situation in Ukraine demands peaceful and diplomatic resolution, adhering to international law. Furthermore, Azerbaijani citizens expressed their support for Ukraine through public demonstrations several times. A significant rally in front of the Ukrainian Embassy in Azerbaijan, attended by hundreds of people, showcased Azerbaijan's solidarity and empathy for Ukraine's predicament.
In addition to the public demonstrations and diplomatic discourse, Azerbaijani officials have taken concrete steps to bolster their solidarity with Ukraine. For instance, recently, during a meeting with Bohdan Drapyat, the Deputy Minister of Internal Affairs of Ukraine, Azerbaijani Ambassador to Ukraine Seymur Mardaliyev reaffirmed Baku's commitment to stand with Ukraine in its struggle against Russia. Notably, his use of the term "aggression" when referring to Russian actions sparked a robust response from Russian authorities. That, in turn, underscored the intricate nature of Azerbaijan's diplomatic position, where any move or statement concerning Ukraine carries the risk of triggering a standoff with Russia. Consequently, Baku finds itself navigating a complex foreign policy landscape, demanding careful and calculated actions to avoid unnecessary friction with its powerful neighbour to the north. Still, despite challenges and potential controversies surrounding Azerbaijan's aid efforts, the country remains constant in its commitment to backing Ukraine in times of need.