Belarus: is there a peaceful solution?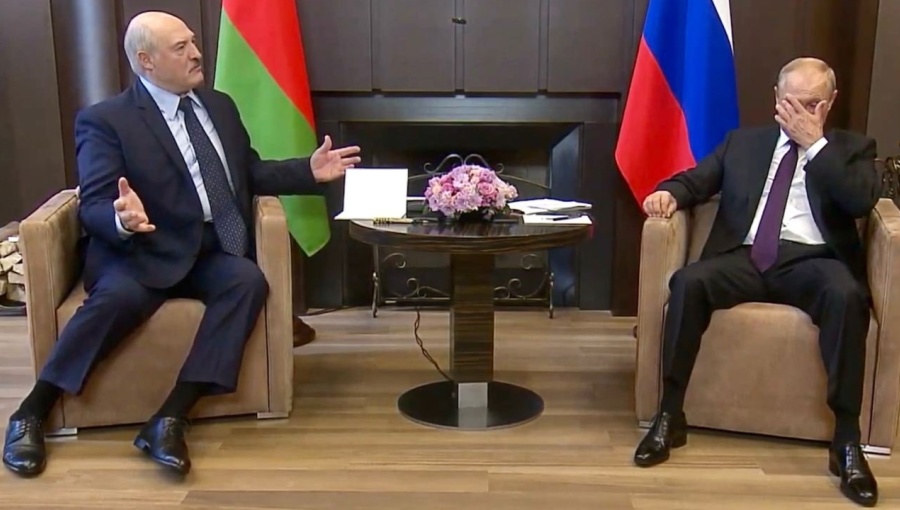 There is currently an impasse in Belarus between Aliaksandr Lukashenka, the de facto president, and the opposition in the shape of the mass of the people who demonstrate every weekend in protest against falsified election results and the brutality of the regime. To date, though the European Parliament has condemned these actions and refuses to recognize the election results, no binding resolutions have been accepted. The United States, likewise, has not put serious pressure on the Belarusian government to negotiate with the protesters.
The one country that is paying close attention to the drama, mainly played out in Minsk but with cameos in other cities, is the Russian Federation. Given its economic and geo-strategic interests with this republic on its western borderland, Russia could hardly remain indifferent to the turmoil. The deep distrust with which the government of Russia and its president are held by some Western governments in Europe is well known; conversely, others are anxious to work with Russia to find a solution, if indeed that is what Russia is seeking.
Among Russian ruling circles, the most belligerent figure is Foreign Minister Sergey Lavrov, who regards the situation as a typical example of Western interference into the affairs of countries within Russia's sphere of interest. The Russian Ministry of Foreign Affairs is noted for its provocative statements on social media, focusing in particular on Ukraine and more recently the two countries that have made strong stances in support of the Belarusian opposition, Poland and Lithuania. But Lavrov is only one voice in Moscow.
On September 14, President Vladimir Putin hosted Lukashenka in Sochi for several hours but the results of the meeting, or at least those reported, were inconclusive. Doubtless all options were discussed, including the possibility of Lukashenka stepping down, something he has vowed never to do while still living. He may also have been advised to meet with opposition leader Sviatlana Tsikhanouskaya and introduce a constitutional reform that would allow repeat elections within a year or so. Lukashenka came back with a loan of $1.5 billion, part of which will be used to pay off interest on existing loans. As any banker would advise: this is not the way to run an economy. Equally important is the symbolic role of Lukashenka as a weak and ineffectual supplicant before his benefactor and controller, Putin.
If Lukashenka persists in storing up his regime by using maximum force against protesters, he also needs to consider the possibility that the resistance could take on more violent forms, as happened in the Maidan in Kyiv in early 2014. Beatings, imprisonment, and torture at some point, given the sheer numbers of the protesters, are likely to elicit a response in kind. Already, some are ripping masks off the OMON troops, knowing that they do not wish to be identified.
Lukashenka has lost his former image of Batka or father of his people. Arguably, he has made more political errors over the past few months than at any time in his 26 years in power. For once, he failed to adapt to a novel situation in which former followers deserted him and the younger generation chose to take an active part in a presidential election. The violence used on earlier occasions, such as 2006 and 2010 was never sustained, but sudden and targeted. Once over, and chosen opponents imprisoned, it ended just as quickly, unlike the present repressions.
The notion that the former situation in Belarus could be restored—a benign Batka presiding over a contented and stable state—is far-fetched. And one cannot arrest or deport everyone. Thousands are languishing in prisons and detention centers, or being slowly released to tell horror stories about their experiences.
A rational leader like Putin will weigh his options: whether to continue to prop up an unpopular figure with whom he has never had a close relationship; or whether to consider other options. The ostensible winner of the 2020 elections, Tsikhanouskaya, has never wavered from her position that the movement is in no way directed against Russia. But it is clear that Russia does not control or influence it either.
On the other hand, should the former presidential candidates such as Viktar Babaryka, Siarhei Tsikhanouski, and Valery Tsapkalo be released, then the picture broadens. All three have ties with Russia, and Babaryka, the former branch manager of Gazprombank, attained the highest number of signatures in the initial period of the elections and was leading in several opinion polls. If he won a repeat election, one cannot imagine why there would be strong objections in Moscow.
The question then would be twofold: whether the protesters would accept Babaryka, the new leader as someone who could satisfy demands for a more tolerant and democratic society that allowed basic freedoms; and second, whether Belarus would have any freedom of maneuver vis-à-vis Moscow. Because one thing the demonstrations have shown is that Belarusians want to live in independent Belarus, not some distant outpost of Russkiy Mir. They show no disrespect or antagonism toward Putin and the Russian government, but the picture would change if Russia exerted more direct control over Belarus.
There remains the possibility of a peaceful end to the bitter standoff, but it requires moderation and careful approaches, and an equanimity and goodwill in Moscow that was not shown in its earlier intrusions into the affairs of its neighbors.