Symbolism and creativity in Georgian protests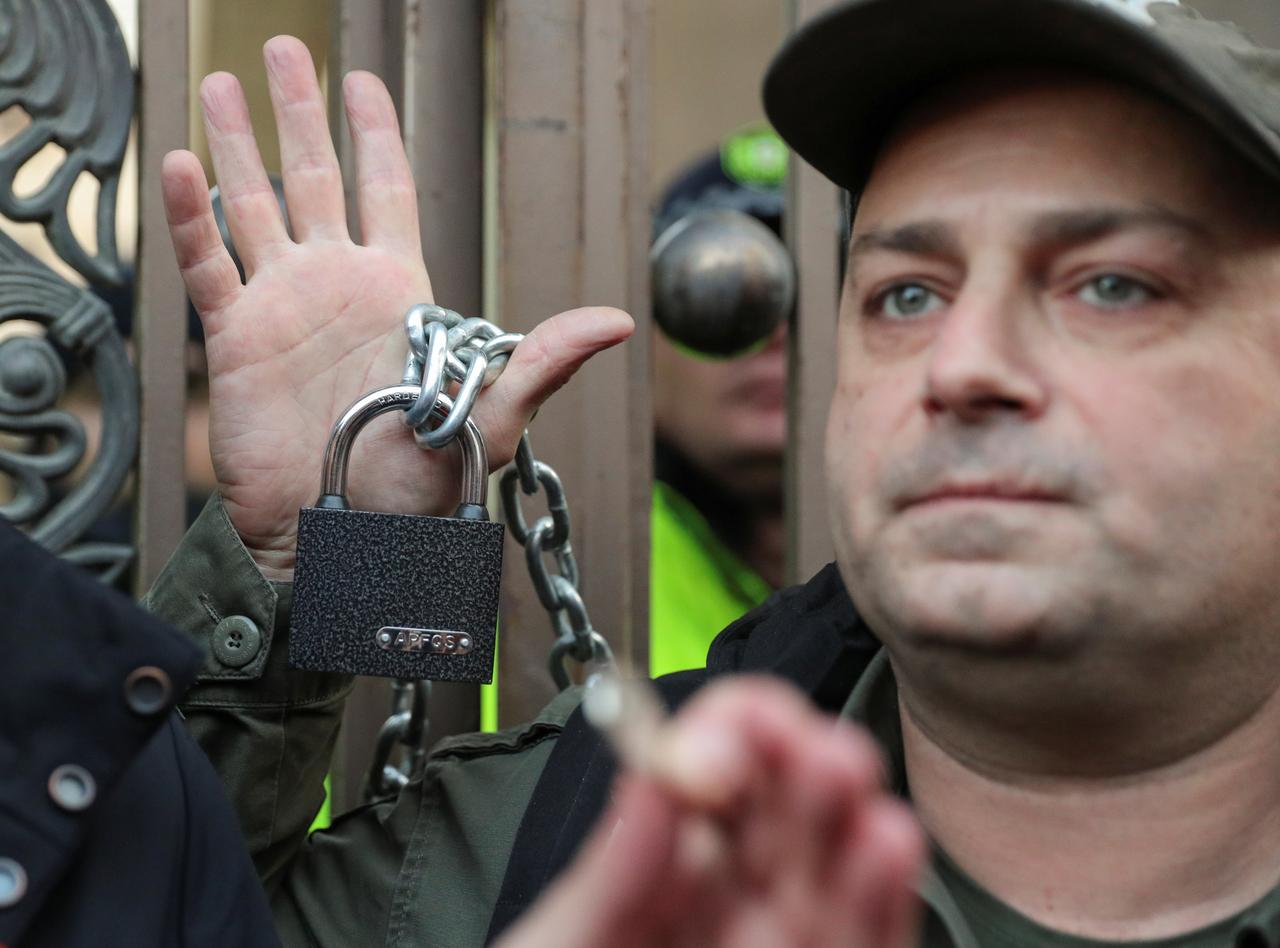 Photo: Opposition supporters chain the gate of the parliament during a rally to protest against the government and demand an early parliamentary election, in Tbilisi, Georgia November 17, 2019. REUTERS/Irakli Gedenidze
In February, Georgian opposition resumed a series of protests after a one-month New Year break. In fact, this break was also rich with a variety of demonstrations and picketing organized by opposition and youth movements. In general, the protests launched last year were marked with interesting cases and stories, with this article focusing more on symbolic and creative actions in them.
Background
For several months, Tbilisi and to some extent, other cities of Georgia lived in an unusual tempo of street protests in two editions. The roots of the protests go back to summer 2019 when the first rallies broke out during the infamous Gavrilov case. The protesters would voice many demands, while the main emphasis was put on proportional parliamentary elections in 2020 as the shift to a proportional system was believed to limit the scope of administrative resources of the ruling party. Under popular pressure, the country`s de facto ruler Bidzina Ivanishvili agreed to switch to a proportional system soon. It relaxed the protesters whose gatherings gradually faded away toward the end of August.
The second wave of the protests was sparked in mid-November when the awaited bill on the electoral system failed at parliament. People took to the streets again, surrounding the parliament and other administrative offices, protesting against the ruling Georgian Dream and accusing its paramount leader Ivanishvili of breaking his promise and cheating people.
Although protests are not an unusual phenomenon in Georgia, the 2019 mass rallies were different as it was youth movements (most notably Dare, Change and Shame) that played first fiddle this time. In other words, the driving force in this leaderless wave was youth, with traditional opposition trying to catch up with them, or as the Georgians themselves put: "In the past, people would follow politicians, but now politicians follow people."
Although the anatomy of never-ending protests in Georgia could easily be subject to separate researches, this very article focuses more on how protests became rich in symbols and trolling. This phenomenon could be related to the dominance of the youth, who have brought a great deal of creativity to mass rallies.

Symbolism and trolling
The most frequently used forms of trolling in these rallies are padlocks and corridors of shame. The first was used several times when opposition activists tried to shut state buildings with padlocks and chains in the capital and other cities across the country, such as Mtskheta, Zugdidi, Poti, Telavi and Ozurgeti. According to perpetrators, "padlock symbolizes the fact that these Offices are no longer functioning." Sometimes this activity becomes an amusing job for protesters: by going to seal government offices with padlocks and chains to disrupt, both symbolically or literally, the work of authorities, activists force police to follow them around with bolt cutters. In one case, after chaining and padlocking one of Parliament gates, the perpetrators passed the key to the people, demonstrating that people are the source of Parliament and have all the right to lock and/or unlock Parliament gates.
Another most frequently used form of protest was a corridor of shame. They were usually arranged by protesters against legislators, particularly Georgian Dream members who had voted for the infamous electoral bill. In such cases, those who had to enter Parliament through such corridors would also receive booing and rain of accompanying insulting, such as "slaves".
The protesters are creative enough to take advantage of what may be designed against them by Georgian authorities. When the latter suddenly decided in January 2020 to fence off the parliament by erecting a green wall, citing necessary repair works, the opposition perceived it as an attempt to prevent further protests. But it still found a use of the green wall, which was soon filled with many inscriptions that mock and criticize the authorities. "The kitchen garden of Bidzina (Ivanishvili)", "They have fenced off the sheep", "Kitchen garden 100 meters away" are among the creative findings of the youth that approached this obstacle rather creatively.
The leaders of the "adult opposition" also commented on the situation, referring to the wall as a symbol of the government that hides from its people, from the problems that it has created and from criticism of Western countries.
Political and administrative figures have also become subjects to trolling-based criticism. The country`s top official, President Salome Zourabichvili, could not escape this fate either as bean (or lobio in Georgian) became a symbol of protests directed at her. It happened after Zourabichvili was found in one of Tbilisi's restaurants eating beans. Oppositionists booed her and accused her of going to restaurants amid protests. (It should, however, be noted that lobio in a pot is one of the most inexpensive dishes of Georgian cuisine.)
An interesting case took place in Mtskheta, where the activists staged a protest in early December 2019. They brought symbolic '41 pieces of silver' (chocolate coins wrapped in silver foil) for Georgian Dream MP Dimitri Khundadze, who had been at the forefront in defending his party for retracting their bill word. Forty-one is the electoral number of the ruling party, while the silver color was a biblical reference to the Georgian Dream 'betraying' their promise to move to a fully-proportional parliamentary system.
In another instance, Mamuka Khazaradze, the founder of the Lelo movement, bought Ivanishvili a plane ticket on a Tbilisi-Moscow flight. This episode followed Ivanishvili`s earlier statement, in which he said he would purchase 35 euro tickets from Kutaisi Airport to send the people, who need jobs, normal life in Georgia, to another country and help them to find jobs abroad.
A creative approach was used toward Irakli Shotadze, a then-candidate for the office of Prosecutor General. Protesting the possible return of Shotadze, who had already served in the same position for several years, the demonstrators of a rally threw sneakers at the Prosecutor General`s Office. Sneakers already symbolize the dishonesty of Georgian prosecutors and refer to Shotadze's predecessor, Otar Partskhaladze, who was forced to resign some time ago it was discovered that he had been tried in Germany for stealing sneakers.
Trolling would also come from the authorities. For instance, when responding to the complaints about the use of cold water against protesters in a cold season, Interior Minister Vakhtang Gomelauri promised to warm water next time before using it against demonstrators.
Georgian protests that broke out in summer 2019 and resumed in fall-winter may resemble at first sight previous rallies and demonstrations, which are not uncommon for this small Caucasian republic. Yet, many novel elements herald a new era in Georgia`s street democracy, in which youth take the leading positions and enrich the contents of demonstrations with remarkable, symbolic and humorous actions.