Strengthening Women's Role in Building and Sustaining Peace: the Successful Case of Women's Inclusion in South Sudan's Peace Negotiations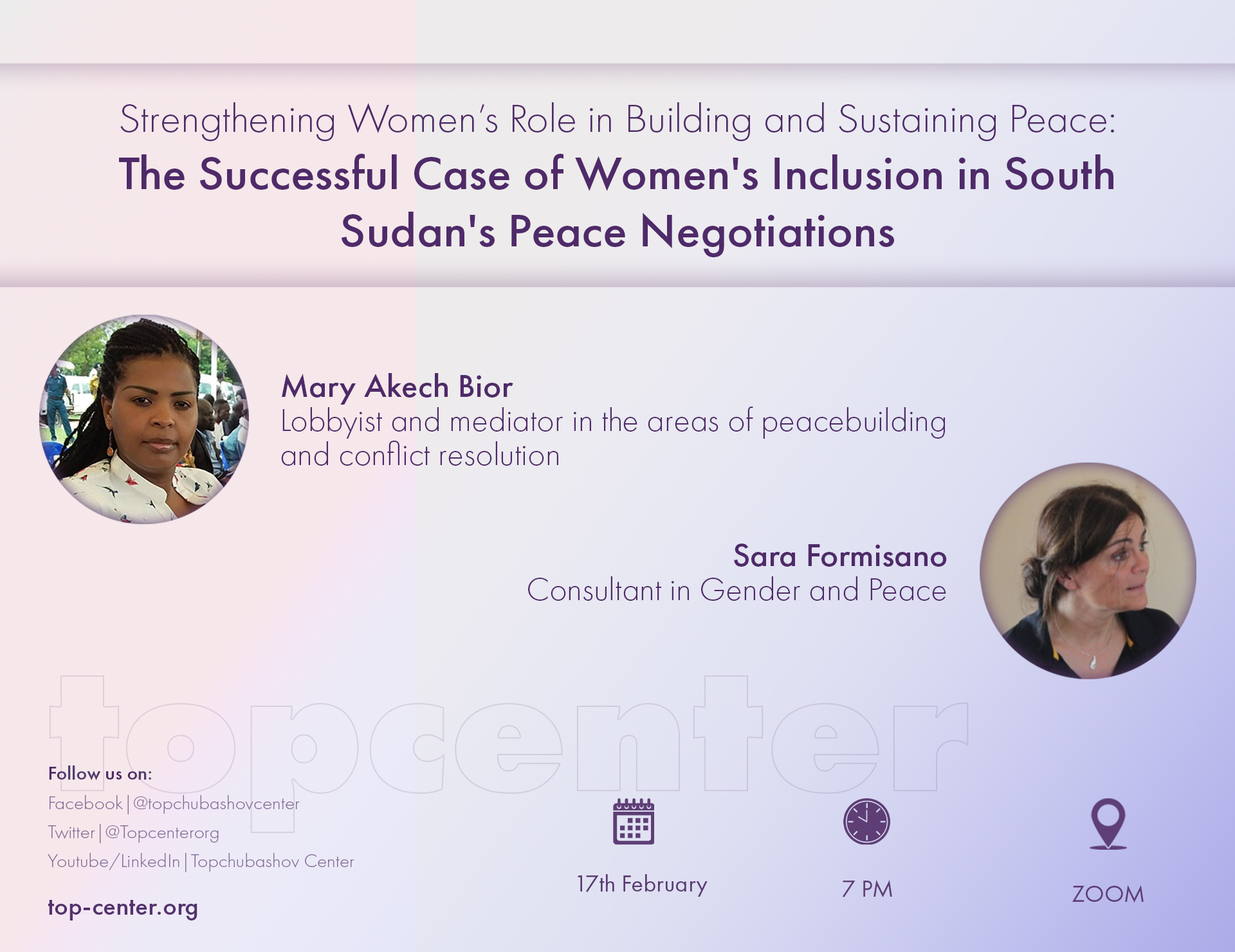 Topchubashov Center continues its cycle of activities dedicated to women in peacebuilding. On February 17th at 19:00 we will host the webinar "Strengthening Women's Role in Building and Sustaining Peace: the Successful Case of Women's Inclusion in South Sudan's Peace Negotiations".
About the topic:
South Sudanese women have traditionally played instrumental roles in resolving conflicts, which gave them experiences and skills that are crucial in transitioning to sustainable peace and reconciliation. In South Sudan, the peacebuilding phase offered an opportunity for promoting gender equity, advancing the position of women in the society, mainstreaming women's perspectives in all the pillars of peacebuilding and increasing their participation in leadership.
Mary Akech Bior, one of the women who signed the peace agreement, will share with us the best practices for the successful inclusion of women in peace negotiations and peacebuilding. The testimony of Ms Akech Bior's direct involvement will be highly valuable for the audience to understand why women's role in peacebuilding is crucial and how the persistent underutilization of women's vast skills could be addressed by institutions and civil society to effectively contribute to peace.
Sara Formisano, Consultant in Gender and Peace, will introduce and moderate the event.
About the speaker:
Mary Akech Bior is a resilient and experienced woman lobbyist and mediator in the areas of peacebuilding and conflict resolution with eight years of working experience at gender and research in peace commission. Ms. Akech Bior worked as a peace activist from 1994 to date and participated in both peace agreements of South Sudan, namely the 2005 Comprehensive Peace Agreement (CPA) and the 2013 Internal Conflict in the Republic of South Sudan. She became one of the signatories in the Revitalized Peace Agreement, IGAD-led peace Process in the resolution of the conflict in the Republic of South Sudan. In addition, she worked as a Gender liaison officer/Gender advisor at Ceasefire Transitional Security Arrangement Monitoring Mechanism CTSAM/ IGAD for five years and she engaged with the warring parties and civil society in the recent revitalized peace agreement to continue implementing peace agreement accordingly. She is a member of the Revitalized Joint Evolution Commission, of R-JMEC and of the Transitional Nation Assembly. Ms Akech Bior attended also many courses on peacebuilding and investigation.
About the moderator:
Sara Formisano is an experienced practitioner in the field of Gender, Sexual and Reproductive Health, Human Rights, Peace Operations, Mediation and Conflict Management. She has worked for five years as an International Observer at the Ceasefire Transitional Security Arrangement Monitoring and Verification Mechanism in South Sudan for the Intergovernmental Authority on Development (IGAD). Building on a Political Science background, she obtained a post-graduate degree in Gender Rights at the Latin America Social Science Institute and studied in Public Health at the London School of Hygiene and Tropical Medicine. In 2020, she also completed the course as an International Investigator on Gender-Based Violence at the Institute for International Criminal Investigation at The Hague. Currently, she works as a consultant on conflict resolution and peace building with a specialization on women participation on peace processes, and she collaborates with the United Nations Institute for Training and Research and the European Commission and several International Consultancies.
Time: Feb 17, 2022 07:00 PM Baku
Link: https://us02web.zoom.us/j/83739050336?
Meeting ID: 837 3905 0336
Passcode: 4FAM1e